Visitation: Saturday March 25, 2023, from 10 a.m. to 11 a.m. at Calvert Funeral Home, Maroa.
Service: 11 a.m. March 25th at the funeral home
Funeral home: Calvert Funeral Homes, Moroa
Obituary
William P. Schleder, 78, of Maroa, passed away February 28, 2023, in Melbourne Beach, FL.

Services will be held 11 a.m. Saturday March 25, 2023, at Calvert Funeral Home, Maroa, with military honors to follow. Private family interment will be held at a later date at Maroa Cemetery, Maroa, IL. Visitation will be held from 10 a.m. to 11 a.m. Saturday at the funeral home.

Memorials may be directed to St. Jude Children's Research Hospital.

William was born February 12, 1945 in Lincoln, IL, the son of Marion L. and Lorraine A. (Groth) Schleder. He married Helen K. Voyles on May 28, 1966 in Lincoln.

Survivors include his wife Helen K. Schleder, Melbourne Beach, FL; children, Brian P. Schleder, Bryan, OH, Chad E. Schleder, Normal, and Angela D. Haws, Rexburg, ID; grandchildren, Kaylin Webster, Dakota Haws, Ryan Haws, Sierra Schleder, Brianna Schleder, Lindsey Schleder, and Luke Schleder; step grandchildren, Jessie and Kristen Leonard; great-granddaughter, Isla Webster; sister, Janet Semple; and brother-in-law, Jim Howard.

He was preceded in death by his parents, two brothers, Delmar and James Schleder, one sister, Geneva Howard, and one great-grandchild, Emerson Webster.

William managed the Texaco gas station in Lincoln, for 10 years and then worked for Firestone Tire, Decatur, until his retirement. He hobby farmed 40 acres of land and as a result of his love of playing in the dirt, he worked as a farmhand for his neighbor and friend Verneal Leggett.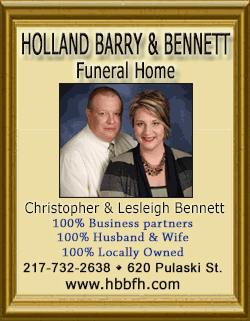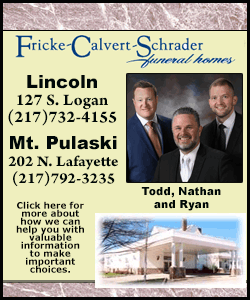 Bill enjoyed people and always met them with a smile. He lived his life with purpose and integrity, a hard worker, never missing a moment to share a life lesson, give encouragement, and show his love.
His favorite holiday was Thanksgiving. When asked why, he said that it was all about good food and being with family. His absence from this world will be deeply felt by many; we are all better for knowing and loving him.

Online condolences may be made at www.calvertmemorial.com