Lincoln Daily News
welcomes letters of appreciation, information and opinion on matters pertaining to the community.
As a community we need to be able to talk openly about matters that affect the quality of our lives. The most effective and least offensive manner to get your point across is to stick to the issue and refrain from commenting on another person's opinion. Letters that deviate from focusing on the issue may be rejected or edited and marked as such.
You may also send your letters by email to ldneditor@lincolndailynews.com
or by U.S. postal mail:
Letters to the Editor
Lincoln Daily News
520 Broadway Street
Lincoln, IL 62656
Letters must include the writer's name, telephone number, and postal address or email address (we will not publish address or phone number information). Lincoln Daily News reserves the right to edit letters to reduce their size or to correct obvious errors. Lincoln Daily News reserves the right to reject any letter for any reason. Lincoln Daily News will publish as many acceptable letters as space allows.
To the editor:

On behalf of Holy Family Food Pantry, a heartfelt thank you is extended to everyone who donated to the recent postal food drive. Thanks to the generous people of Logan County, a significant amount of food was collected and will make a meaningful difference in the lives of many individuals and families in need.

The food collected was distributed to four different food pantries in our community. Holy Family Food Pantry was fortunate to be a recipient. Your kindness allows us to offer food items to families they may otherwise not have during these difficult times.

Thank you also to the dedicated letter carriers who tirelessly collected and transported the donations. Their commitment and hard work played an instrumental role in the success of this initiative. Their efforts, combined with the unwavering support of those who donated, have touched the lives of many.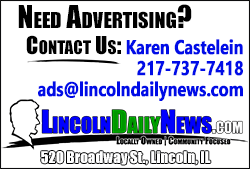 Once again, thank you to everyone who contributed to this cause. The number of families in need continues to increase. Your generosity and kindness support this worthwhile service to our community.

With sincere gratitude,

Holy Family Food Pantry
316 S. Logan St.
Lincoln, IL 62656
[Posted May 19, 2023]