Lincoln Daily News
welcomes letters of appreciation, information and opinion on matters pertaining to the community.
As a community we need to be able to talk openly about matters that affect the quality of our lives. The most effective and least offensive manner to get your point across is to stick to the issue and refrain from commenting on another person's opinion. Letters that deviate from focusing on the issue may be rejected or edited and marked as such.
You may also send your letters by email to ldneditor@lincolndailynews.com
or by U.S. postal mail:
Letters to the Editor
Lincoln Daily News
601 Keokuk St.
Lincoln, IL 62656
Letters must include the writer's name, telephone number, and postal address or email address (we will not publish address or phone number information). Lincoln Daily News reserves the right to edit letters to reduce their size or to correct obvious errors. Lincoln Daily News reserves the right to reject any letter for any reason. Lincoln Daily News will publish as many acceptable letters as space allows.
To the editor:

All we have is our word. And without it, what are we?

For three weeks, the Lincoln City Council gave every indication it would provide pay raises of $4,183 to its non-union clerical city employees. From the beginning, it was made clear the City of Lincoln had enough revenue to cover the pay increases without strain to the City's finances. In fact, the City's next budget still features decreased overall spending by $500,000!

Every step to advance the pay increases passed without objection from the Council. Then, when the night came to formally approve the raises, concerns were finally raised about the amount of the pay increases. The Council then approved a measure that would reduce the pay raises by almost 40%, to $2,500 annually.

While one Alderman raised concerns residents in his Ward 4 were "fuming" over the raises, I myself am a Ward 4 resident who is fuming at the City of Lincoln backing out of its promise to its hard-working clerical workers. Thankfully, Mayor Welch issued a veto last Friday on the reduced pay raise measure. In his veto, the mayor wrote that he had also talked with constituents whose collective message is clear: keep the original raises as intended.

Concerns about the raises should have been voiced earlier in the budgeting process instead of waiting until the budget's proverbial finish line. Instead, City workers have heard the Council's message loud and clear: you are not worth the raises we planned for you.

If the City treats its own employees with a last-minute switch like this, why should any businesses look to open in or work with Lincoln? This switch will only harm the City of Lincoln's reputation and ability to improve in the future. With a population 10% less now compared to 2010, local leadership needs to reaffirm that Lincoln is a city that treats its residents with respect and appreciation.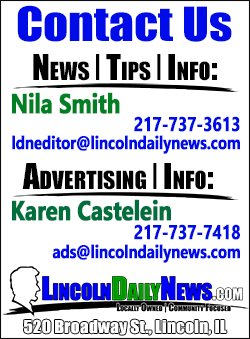 Fully reinstating the original pay raises to its non-union clerical positions would be a wonderful place to start. I urge the Lincoln City Council to do the right thing and do just that.

-Chris Slaby
Related Articles and Letters to the Editor:
City council share heated exchanges before reaching a compromise on non-union salary increases
MAYOR TRACY WELCH VETOES COUNCIL DECISION
LETTER TO LINCOLN ALDERMEN - PDF
"I vetoed a portion of the resolution because I strongly believe that we have a responsibility to ensure that ALL employees who work for the city receive a fair and equitable wage. These salary increases were included in the budget, which was unanimously passed, and it is my hope that the council can pass a new resolution that closes the wage gap that still exists for our non-union clerical employees. The right thing to do isn't always the easiest thing to do!" - Mayor Tracy Welch
LETTERS TO THE EDITOR
[Posted May 8, 2023]