Lincoln Daily News
welcomes letters of appreciation, information and opinion on matters pertaining to the community.
As a community we need to be able to talk openly about matters that affect the quality of our lives. The most effective and least offensive manner to get your point across is to stick to the issue and refrain from commenting on another person's opinion. Letters that deviate from focusing on the issue may be rejected or edited and marked as such.
You may also send your letters by email to ldneditor@lincolndailynews.com
or by U.S. postal mail:
Letters to the Editor
Lincoln Daily News
601 Keokuk St.
Lincoln, IL 62656
Letters must include the writer's name, telephone number, and postal address or email address (we will not publish address or phone number information). Lincoln Daily News reserves the right to edit letters to reduce their size or to correct obvious errors. Lincoln Daily News reserves the right to reject any letter for any reason. Lincoln Daily News will publish as many acceptable letters as space allows.
To the editor:

On behalf of Habitat for Humanity of Logan County, we'd like to thank our community for the support we have enjoyed for over 30 years. We believe that Habitat is a great way to give back to a community that has been so generous in many different ways.

Habitat's worldwide mission is to help provide decent affordable housing to people who work hard. Our recipients work hard on the home that they help build and work hard to pay for it through a no interest loan provided by our local Habitat affiliate. The stability provided to a family through homeownership benefits that family in many ways but also the neighborhoods in which they live.

We celebrated 30 years of service to Logan County last November as we are building and have rehabbed our 26th and 27th homes. The goal is to continue building/rehabbing at least one home each year. A partnership with Lincoln Community High School's building trades program has also been a great benefit to both parties and made it possible to do two houses this year. Homes have been built in Lincoln, Mt. Pulaski, Atlanta, and Emden.

These homes are funded through the mortgage payments of recipients, proceeds from our second hand store located at 909 Woodlawn Road, and generous donations from local businesses, churches, charities, and individuals.

[to top of second column in this letter]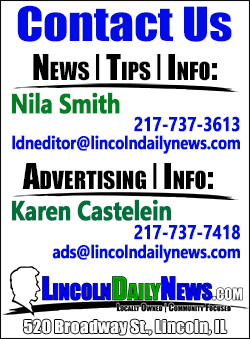 Your donations to the store and shopping for items such as furniture, appliances, home improvement supplies, etc. help us to continue with our mission. As with most things, costs for construction have increased considerably so we appreciate cash donations as well.
If you are able, we would very much appreciate donations directed to Habitat at:
Habitat for Humanity of Logan County
PO Box 704,
909 Woodlawn,
Lincoln, IL 62656.
With your help and that of our tremendous volunteers, we hope to continue creating an avenue for homeownership for many years to come.

God's Blessings to all,
Jane Ryan
[Posted April 18, 2023]