For the past few years, the FFA has been co-hosting the breakfast with the American Legion Baseball Fundraiser. The FFA and its alumni sell advance tickets with the proceeds going to the group. Proceeds from tickets sold at the door go to the baseball fundraiser.

At the door Sunday morning, ticket takers said it had been a very busy morning, and Annie Coers whose son Jayce is a current FFA member reported after the fact that breakfast had been served to between 400 and 450 guests throughout the morning.

Along with the breakfast, the FFA put together silent auction and live auction items, the proceeds of which, all went to the FFA chapter.

After enjoying their meals, guests perused a long line of silent auction items, placing bids and hoping that they would be the winner of the day on their choice items.

At 10 a.m. the brother and brother team of Cody and Ty Tucker, both of whom are professional auctioneers, with the assistance of Troy Rawlings started the live auction portion of the event.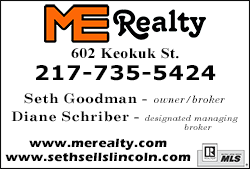 There were many interesting items in the live auction including a wide variety of baked goods. With pies by Annie Boyer, a German Chocolate Cake so nice it sold twice donated by Joan Dahmm, and other sweet goodies donated by Peggy's Place, Allie Bode, Amy Naughton, and Pam Schreiner, the sweet treats of the day brought in a pretty penny for the FFA. However, in that particular category the big bids of the day were earned by two sets of two dozen sugar cookies donated by the Kirgan Family. The first box went for $130 and the second box went for $200.
Other food items on the auction block were meat bundles donated by the Tucker Family, MKS Livestock and Nuthatch Hill BBQ and a whole hog donated by Garrett Apel.
Seed corn was also in plentiful supply as donations were made by Garrett Cooper (Golden Harvest), Kyle Klockenga (Wyffels), Matt Wrage (Pioneer), Rusty Thomas (Agrigold), Brad Close (DeKalb), Clay Irwin (Lincoln Ag Center), and Gary Atterberry (LG Seeds).

Bellflower Feeds donated 10 bags of any kind of animal feed, and Harold Goodman Inc. donated 10-ton of rock, both of which brought good money at the auction.

Other items donated included coolers, a camp stove, a camping basket, grass seed and a nice-looking swivel chair.

The last item in the auction was a custom made piece donated by the LCHS FFA Chapter. Hand made walnut case with glass cover containing the FFA emblem on the field of blue that is typically the FFA's jacket brought a whopping $475.

Throughout the morning, FFA members, FFA parents and alumni were on hand helping with the event. Members bussed tables and made sure every coffee cup was well supplied with hot coffee. During the auction, the members were called on the serve as the "Vanna's" of the day showing off the items by walking through the room allowing guests throughout the dinning area to a close up view of what was being auctioned.

Also FFA parents and alumni were at the registration table for auction paddles, and accepting random donations for those who did not wish to buy or bid items being offered in the two auctions.

As the auction came to an end so did the day, and those who had stayed had more than one shot at the all you can eat breakfast, leaving the building winners in more than a few ways.

[Nila Smith]