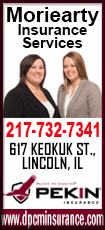 Several members of the city of Lincoln attended including aldermen Kathy Horn and Kevin Bateman, who held the ribbon for the cut. Mayor Seth Goodman was also on hand to congratulate the Perschallís along with Lincoln City Clerk Peggy Bateman. Bethany Rademaker, who is running for county office in 2020 was present along with a number of friends and family members of the Perschallís.

With cooler temperatures outside, the ceremony was brief as Nila Smith of the Lincoln Daily News Ribbon Cut Crew welcomed everyone and congratulated the Perschalls and thanked them for bringing another new business to Lincoln.

Introductions were made of Bob and Sonja and their children Kaitlyn, Sammi, Mollie, Robbie, and Devin. Devin the youngest of the five was especially excited about the ribbon cutting and got to help with the ribbon cutting.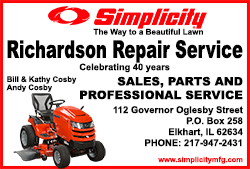 Smith commented that this was the ideal time of year to be starting a new business of this type because Christmas is coming. Inside the shop there are dozens of items that can be personalized for gift giving and personalized gifts can be very special.
Sonja spoke on behalf of the family. She said that she wanted to thank those who came out for the cut. She added that she and Bob are very excited to start a new chapter in their lives and greatly appreciate all the support they have received.
Mayor Goodman also had a few words to say, noting that he has heard about some of the products the Perschalls have made for friends and that they were happy with the product and the service. He thanked the Perschallís for investing in Lincoln and wished them well.

With that it was time for pictures then the traditional snipping of the ribbon. Sonja, Bob and Devin did the honors at the end of the countdown.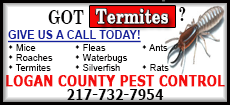 After the cut everyone was invited back inside where it was a bit warmer. Hot beverages were available along with a variety of morning sweets.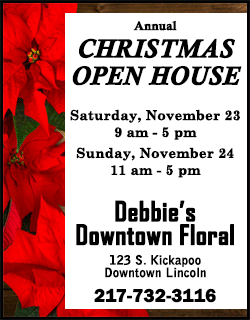 Guests returned to the shop and spent time visiting, munching on sweets and taking a look around at all the items available for sale.
According to Sonja there are some items in the shop that can be personalized, but donít have to be. She noted some quilted handbags, as an example, saying that they have had customers take those as is without adding any personalized messages.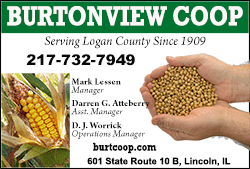 The shop offers shirts and sweatshirts in a wide variety of styles and colors. They also have mugs, can cozies, key chains and several other items that can be personalized. In addition to all that, they have hair accessories that are sold as is and many other cute things that would be perfect for gift giving this holiday season.

If you havenít made it into Hot Frog just yet, be sure to do so soon. The shop is open Tuesday through Saturday and closed on Monday. Hot Frog Designs is located at 501 Woodlawn Road in Lincoln.

[Nila Smith]