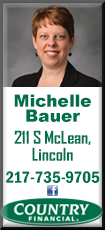 Coyne is moving his offices to 1301 Woodlawn in Lincoln. Those who have been in the community for a while know that the building Coyne is moving to was built as a Long John Silver's seafood restaurant. After the Long John Silvers closed, the building was occupied by Liberty Tax Service for a while. For the last year or so, the building has been empty.

Coyne has had an office in the Heritage Plaza in Lincoln since 2003.

Coyne said that the remodeling that the former tenants did to the building that will be his next office, made the majority of the work to accommodate him and his staff mostly cosmetic.

Making the move, Coyne said he will be going into a smaller building. But, it is going to be more accommodating to the size of his staff, and it offers high visibility and a parking area for his customers only. He said in addition, with the drive around the building, he was able to install a drop box on the west side of the building for transactions that do not require the customer come inside, such as payments. He said he thought his customers would appreciate that convenience, especially in nasty weather because they won't have to get out of their cars to take care of business.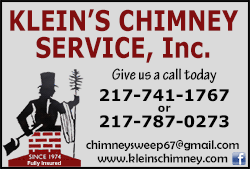 Coyne added that in the Heritage Plaza he was paying for un-used space, but also had an east window all across the front of the offices that had a negative impact on utility bills. All in all, with lower utility bills, a better utilization of space, and a higher visibility, Coyne is confident that the move to the new building will be a good one.

For those who are unfamiliar with Coyne' he's been in the insurance business since 1985. Coyne hails from Pontiac, which he said shares a lot of similarities with Lincoln. He graduated from Illinois State University in 1984. In 1985 he went to work for State Farm, working in Chicago. In 1989 he was transferred to Bloomington. He went to work in Springfield in auto claims in 1993. In 1997 he returned to the corporate offices where he remained until he opened his first agency office in 2001 in Atlanta.

In June of 2002, he had the opportunity to take on an agency office in Lincoln. Coyne explained that he started out on Pulaski Street in downtown Lincoln. In Lincoln at that time there were two primary State Farm offices in Lincoln, those of Woody Jones and Delmar Aukamp. The Pulaski Street office was taken over from Aukamp by Jane Wright. From Wright the office went to Brandi Patterson, then to Coyne. Coyne then in 2003 moved the agency office to Heritage Plaza where he has remained for the last 15 years.
Four years ago, Coyne married Tia Taylor and they became a blended family. Tia has two daughters, Lexi who is a student at Southern Illinois University, Edwardsville, and Laini, who is a freshman this year at Lincoln Community High School. Chris also has two children, Lindsey, who is also a graduate of SIUE and currently living and working in the St. Louis area, and son Brant, who lives and works in in Reno, Nevada.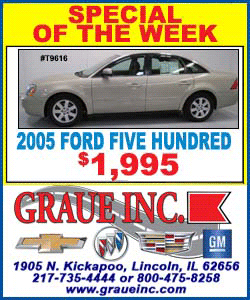 Coyne moved to Lincoln in 1993. He has enjoyed being a part of the community involved with the local Elks, president of the Atlanta Rotary, and volunteers with Toys for Tots. He works with the driver's education programs at Lincoln Community High School and also at Olympia High School.

For the work at the new building, Coyne said interior work included new carpeting, paint, and some carpentry, and he is appreciative of for all the assistance he received beginning with Tia and Lexi, who did a lot of the interior painting.

In addition, he said that Office Manager Robyn Yarcho and team member Josh Baker did the cleaning and painting in the back storage room. Frank Sommers was the primary carpenter with Larry Johnson also helping out with some light carpentry jobs. Rick Ramlow worked on the heating and cooling in the building and Dan Langley of Lincoln Heating and Cooling also worked on the project. Finally, the outside work including cleaning up the landscape and taking care of the lawn maintenance was done by Coyne's brother-in-law Eddie Morrow.

At the ribbon cut, Coyne said he expects to be joined by some of his family as well as his office/service team: Yarcho, Baker, Karen Liesman and Josh Johnson.

Also look for a visit from a special guest – 'Good Neighbear.' The corporate mascot, a large cuddly brown bear, generally arrives on the scene in his State Farm t-shirt and cap, and offers hugs and photo opportunities to all.

When the cut is complete all guests will be invited inside to take a look at the new offices, visit with Coyne and his staff, and of course enjoy some light refreshments.

Coyne said he is anticipating that the staff will be officially in the new building starting Tuesday, September 4th. Office hours at the Lincoln office are Monday through Friday, 8 a.m. to 5 p.m., so starting on the Tuesday, look for the Heritage Plaza office to be empty and the new offices on Woodlawn to be open.

Again, the community is invited to stop in on Thursday, September 6th at 9 a.m. for the ribbon cut. Coyne is hopeful that he will see many customers as well as friends and family, all there to help him and his staff celebrate a new location and a new chapter in the history of Chris Coyne State Farm Insurance.

[Nila Smith]