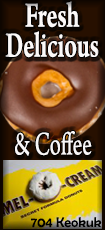 Owners Chuck and Sharon Jeagle recently moved their business from a location shared with Sheley Tire on from Broadway Street to stand alone at 221 South Sherman Street.

The Jeagles had been at the former location for 27 years, but recently the owners of Sheley's shared with the Jeagle's that they will be winding down their business as they enter into semi-retirement. They suggested Jeagle's look for a new location for the glass business.

The Jeagle's looked at a number of locations and found the added space in both the shop and store front/office area desirable at the Sherman Street location. After moving they also found that being in plain view of the Lincoln IGA parking lot was becoming a great asset as well.

Sharon said that a lot of folks had stopped in and said they had just noticed the business and while they knew about Chuck's Glass, they had never paid much attention to where the business was located.

On Monday morning the ribbon cut was led by the ribbon cut crew at Lincoln Daily News. Nila Smith served as the emcee for the ceremony with Karen Hargis manning the ribbon on one hand and getting a little help from former Lincoln/Logan County Chamber of Commerce board member and ambassador, Don Peasely.

Other's on hand for the cut included Roy Logan with LDN, Mayor Seth Goodman, City Clerk Peggy Bateman, Alderwoman Kathy Horn and Fire Chief Bob Dunovsky representing the city of Lincoln. Logan County Clerk and Recorder Theresa Moore and Treasurer Penny Thomas were there representing the county. Others on hand were Steve and Jo Shoemaker of Central Illinois Insurance, Morgan Gleason and Kaylee Kirby of the Logan County Tourism Bureau; and Michael Mallick and other representatives of the Jefferson Street Church, where the Jeagle's attend.

Joining the Jeagle's were their son Robbie and daughter Emma and a special friend Mario Bonaparte who helps out at the shop from time to time. Robbie also works part time at the shop and was included front and center between his parents for the cut.

As everyone gathered for the cut, Smith welcomed and acknowledged guests and noted the reason for the celebration. She said that in addition to celebrating a new location, the group should acknowledge and celebrate the longevity of the business. Chuck's Glass has been in Lincoln for 27 years. It was noted that to have a local business establish, grow, and thrive within the city is a great thing, and noteworthy.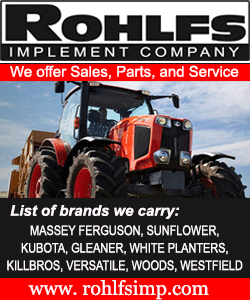 Chuck Jeagle spoke on behalf of himself and his family. He said to start that he wanted to thank everyone for coming. He kept it short saying that it has been wonderful being in Lincoln for 27 years, taking care of his business, and taking care of his family, and he is looking forward to another 27 years.

Mayor Goodman congratulated and thanked the Jeagle's for the dedication to the community and wished them well in their new location.
Then with everyone chiming in for the countdown of three-two-one snip, with Chuck and Sharon performing the honor. Everyone was invited to stay for a while and visit with the Jeagle family and enjoy a snack and coffee in the front office, and most did.

For those who may still be unfamiliar, Chuck's Glass and Mirror specializes in custom cut glass and mirror products. Chuck is a glazier, which means he cuts glass by hand most of the time without the use of automation. Because of this, he is able to cut special shapes and work glass into hard to fit areas such as uniquely shaped windows or frames. He does a great deal of work with glass replacement for vintage and antique autos, and works with local contractors for glass cases and shelving. In addition, the Jeagle's sell windows for the home, do emergency board up services for broken building glass and they install frameless showers (those totally encased in heavy glass). They also do auto glass replacement.
Chuck's Glass and Mirror's new address is 221 South Sherman Street. Their hours are Monday through Friday 8:30 a.m. to 5 p.m. and 8:30 a.m. to noon on Saturdays. During office hours you can reach them by calling 217-735-4307. They also provide an after-hours phone number for emergency needs. That phone is 217-871-6616.

[Nila Smith]