Wednesday ribbon cut celebrates two new Lincoln businesses in one
Tinaja Tire and Auto Service and J & M Car Care open on Logan Street

Send a link to a friend Share
[August 09, 2019] During the lunch hour on Wednesday, Tinaja Tire and Auto Service and J & M Car Care celebrated the opening of their new business in Lincoln with a ribbon cut hosted by Lincoln Daily News.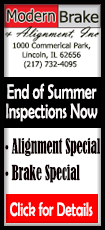 The new businesses are located at 103 S. Logan. Between the two, their services offer a complete one-stop location for vehicle repair and maintenance.

Tinaja is owned by Jose Vega and will feature tire sales complete with mounting and balancing, as well as vehicle repair. J & M Car Care is John Lucio and Macy Hawkins and will offer complete care detailing services.


On Wednesday a small crowd gathered for the mid-day ribbon cut including Alderman Ron Keller and City Clerk Peggy Bateman representing the city of Lincoln. Also on hand was the recently crowned Miss Logan County Fair Queen Skye Kretzinger. Morgan Gleason and Kaylee Kirby were on hand representing the Logan County Tourism Bureau.
Vega was joined by his family. His son Jose Jr. joined Vega and Lucio with the scissors, while wife Nora and son Jesus stood to the side with Vega's niece Fernanda.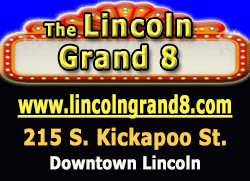 Others who stood off to the side to watch the cutting were Bethany Rademaker, who was there with Queen Skye, Lucio's partner Macy and his good friend Brandon Becker. Lucio and Becker work together in the landscaping and lawn care business.

The day began with welcoming remarks from emcee Nila Smith followed by comments from Vega, Lucio and Keller representing Mayor Seth Goodman who was unable to attend.

Smith noted that Vega had opened his business earlier this spring and was working to grow it already. Since the first interview with Vega and Lucio, Vega has taken steps to now offer new tires in addition to good used. He said that he is now set up to offer most large name brands such as Bridgestone and Goodyear.

It was noted that the business that is located on one of the city's busiest streets has also been made better with Vega and Lucio's arrival. The two, with help from Jose Jr. and Macy have worked to add fresh paint to the building and get the parking area cleaned up.

Vega and Lucio formed their business relationship more or less by accident. Lucio had stopped in one day to speak with Vega about tires for his personal vehicle. The conversation evolved into Lucio sharing his knowledge and experience about detail work with Vega. Vega then offered Lucio an opportunity to share space in the garage. The two are now working together to build a strong business that will last.

Lucio when called on to speak noted the relationship with Vega and said that he saw Vega as someone who was fair and honest and would not take advantage of his customers. He has a fair and reasonable pricing structure that will make him competitive with other similar businesses in the community.
He thanked the community for making them feel welcome and Vega for recognizing the value of the partnership.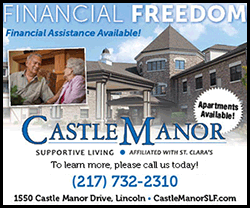 Vega also spoke saying he was happy to be in the community and hopeful that he would have the opportunity to serve the needs of the folks in Lincoln and Logan County.
Keller said that he had enjoyed meeting Vega and Lucio and learning about what they will be bringing to the city. He said that the goods and services that the two will be providing are needed and he is hopeful that folks will consider Tinaja and J & M when looking for mechanical services, tires or detailing.

Keller also noted that opening a new business is a tough challenge and that for that business to succeed, it needs the support of the community. He hopes that everyone will take that to heart and remember to support those who are working to keep our community thriving.

Right before the ribbon was cut Jose Jr. was asked if he wanted to say a few words. The young man is on summer break from school and has been at the shop quite a bit helping his dad and Lucio with the clean-up work around the lot and building. He said that he had enjoyed being here this summer and would miss it when he had to go back to school in a few weeks.
With speeches concluded Vega and Lucio manned the large scissor and posed for a picture. Afterward, the group helped out with the countdown and at the three-two-one-snip, Vega and Lucio cut the ribbon on their new business.

After the cut, grilled hot dogs and chips were set out for the guests. Everyone stayed for a dog and a chance to visit with Vega and Lucio.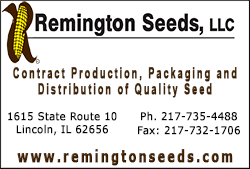 While visiting afterward with Vega noted that business had started off slow when he opened in June, but he is seeing a good deal of increase. Lucio had noted earlier that they were rushed just a bit to get ready for the ribbon cut because they had three new customers pull in the drive on Wednesday morning and of course, serving the customers had to take top priority.

Tinaja will be open Monday through Friday from 7:30 a.m. to 5 p.m. On Saturday's the shop will be open from 7:30 a.m. to 2:30 p.m. Those looking for tires, auto repair, or detailing services can stop by the shop or call 217-735-1150.

[Nila Smith]