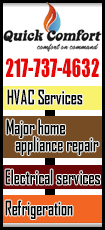 This weekend the pair is hosting a three-day Grand Opening celebration with special events on all three days.

Friday, Cox and Hoinacki accompanied by their spouses and children stood behind the red ribbon surrounded by friends, family, customers, local elected officials, city of Lincoln aldermen and Logan County Board representatives, Hal Smith with U.S. Congressman Darin LaHood's Springfield Office, and Lincoln Mayor Seth Goodman.

Nila Smith with LDN Ribbon Cut services welcomed the group to the cut acknowledging the wide variety of guests and officials in the large room. It was noted that taking the plunge into business ownership is a big investment of time, talent, and of course money. Cox and Hoinacki were thanked for investing not only in their own dream, but also in the downtown Lincoln area.

Hal Smith - far left in dark suit
Hal Smith spoke on behalf of Congressman LaHood and himself also, noting that he has ties to Logan County. He spoke about how he admired and appreciated the efforts the new business owners are making to keep the historic downtown area active and alive. He spoke about respecting the historical aspects of the buildings that the coffee house occupies and applauded the preservation efforts of not only Hoinacki and Cox, but all the community in keeping the downtown area historically correct.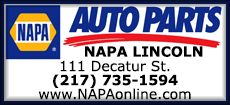 Ashley Ried - far right in black and pink
Working with Hoinacki and Cox during their planning stages for the new business were Ashley Ried, Amanda Kitterman and Rachael Judd of Small Town Social in Lincoln. The three women own and operate the business that focuses on assisting new entrepreneurs in developing business and marketing plans, working with the owners for promotion materials such as press releases and social media, and in general offering their expertise and emotional support to the endeavor.

Before the cutting ceremony Cox said that she wanted to give the three consultants some special acknowledgement of appreciation for all their help. Ried took a moment to say a few words on their behalf. She said that deciding to become a new business owner was a big step that took a lot of dedication, it was a huge investment, and Small Town Social is "incredibly proud" of Cox and Hoinacki and what they have accomplished. And she concluded congratulating them and wishing them well.

Lincoln Mayor Seth Goodman - center holding scissors
Mayor Seth Goodman spoke as well, also noting that as a business owner, he can identify with what it takes to be a business owner. And, as the others had, he congratulated the pair on their dedication and conviction to flowing their dream to make it happen. He also concluded by thanking them for investing in Lincoln and he wished the all the best in their endeavor.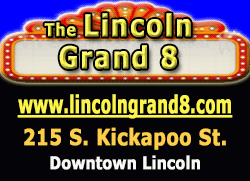 Ethan and Nicole were called on to say a few words, and Ethan spoke first. He noted his appreciation for his family including the family members who had been supportive through words and deeds, such as by helping he and his wife with the kids during the early stages of the getting the business off the ground.

Nicole took her turn to speak and started by glancing Ethan's way and saying "ditto." She added to her partner's comments saying that this has been a very exciting time for the pair and their families, and that she too is very thankful for all the support from the community.


With speeches concluded there was an opportunity for posed pictures, then the crowd in the room assisted with the cut by calling out the long standing local tradition, "three, two, one, snip."

The Guest House Coffee & Pastries is accurately defined by its name. Hoinacki began a few years ago working with coffees and began selling on the retail market with beans and ground products only at the ALMH Market during the summer months in Lincoln.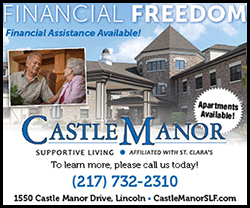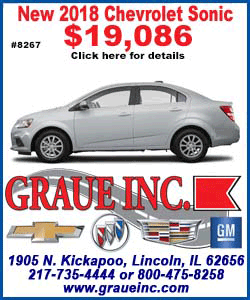 Cox, who loves baking and decorating, also started her retail side at the ALMH Market offering decadent cupcakes that stood several inches tall and were made up of tasty cake topped with a mountain of rich creamy frosting. She also worked with cookies and showed her artistic abilities in her decorated and painted cookies.

Ethan is the guru of coffee and can accurately describe the taste of each one of the many varieties that are served at the counter, and he leads novice customers to finding that special new favorite roast or flavor.
Cox has expanded her offerings in the bakery to include a huge variety of goodies including rich tarts, cream puffs, cheese cakes and much much more.
After the ribbon cut was concluded guests in the house were treated to a delicious fruit topped white cake with thick frosting and lemon cream filling.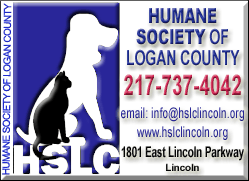 Congratulations to the partners in all they've accomplished. It is good to note that Cox and Hoinacki are young people with young families. They are local, and have chosen to stay in their home town community to raise their family and grow their business. Best of Luck to them!

If you've not been to Guest House, this weekend would be a great time to stop in and get acquainted. There are special activities going on yet today and tomorrow.

[Nila Smith]
Ribbons cuts in Logan County are offered free of charge by Lincoln Daily News. To schedule a ribbon cut or to be added to the notification list for upcoming ribbon cuts, please email ribboncut@lincolndailynews.com with your request.