Pink Pumpkin Auction raises $16,000 for the American Cancer Society

Send a link to a friend Share
[October 12, 2019] On Thursday, October 3, the second annual Pink Pumpkin Auction was held at Collision Concepts in Lincoln. The event, which is co-hosted by Collision Concepts and Lincoln Daily News, is a fundraiser for the American Cancer Society. The money raised Thursday night will be donated to the ACS through the Logan County Relay for Life Friends and Family Relay Team.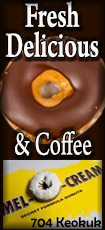 The event featured 54 live auction items, all with a pink pumpkin theme. New this year was a silent auction that featured more than 80 items from a wide variety of donors. At the end of the night the silent auction brought in just over $3,500 for ACS. The live auction raised just over $9,200.

After the auction there were a number of "matching" donations made on specific items sold at the live auction. After a couple of days of collecting and calculating, organizers came to realize that altogether the evening brought in right at $16,000 for ACS.

An event like this does not happen without a lot of dedicated people behind the scenes, lots of donors, and a lot of bidders and buyers. Thank you is not a large enough or elegant enough way to express how the organizers feel about all these people who took part.

It is important to start by acknowledging all these people.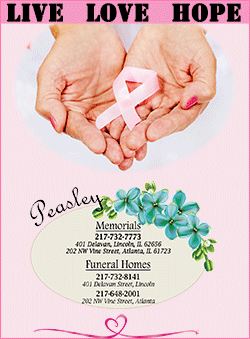 Those who donated merchandise to the silent auction included:

Advanced Eyecare
Amanda Weyant
Annie Boyer
AT&T Team
Auto Zone
Barbara Bragg
Bayer Crop Service
Beck's Best Western
Belltone
Big R
Blade's
Brady Paint & Construction
Brainard Landings
Bright Ideas
Camel's Hairem
Carpet House
Central Illinois Ag
Cha Dai Pet Motel
Chuck's Glass
Collision Concepts
Complete Lawn Care – Mike Nietzel
Cooper's Hawk
Copper Penny
Cricket Wireless
Culligan Water
Culver's
Doggie Stylez
Dominos
Doug Knight/Knights Action Park - Springfield
Dunkin Donuts
Duvall Automotive
Family Chiropractic Center
Family Custom Cleaners
Fastenal
Fitzpatrick
Guzzardos
Hampton Inn
Healthfirst Chiropractic
Hearing Aid Center
Heidi Charron
Hot Frog Designs
Jake's Furniture
Johnny's Buy Sell Trade
Kevin & Peggy Bateman
Keystone Automotive
Kickapoo Center
Landmark Ford
Lincoln Dental Center
Lincoln Elks Golf Club
Lincoln Family Theater
Lincoln IGA
Lincoln Land FS
Lincoln Park District
Mel-O-Cream
Napa Auto Parts
Neal Tire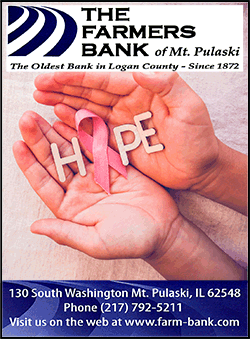 North Greens Golf Course
Oasis Gift Shop
Peggy's Place
Pizza Hut
Precision Products
Primp Hair Studio
Quality Inn & Suites
Rexx Battery Specialists
Rick Hamm State Farm
RP Lumber
Rusty Rail Pub
Salon Trio
Small Town Creations
Sorrento's Pizzeria
Speed Lube
Spirited Republic
Sugar Creek Ortho
TK's Grill
Town & Country Bank
Vi Nail
Walgreen's
Wendy's

Those who donated to the live auction with amazing pink pumpkin creations included;

Abe's Caramel Corn
Allstate Insurance
Bee's Floral and Landscaping
Bell's Blossoms and Blessings
Blades Hair and Nail Salon
Brady Realtors
Brady's Painting and Construction
Castle Manor Supportive Living
CCAonline
Charron's Auto Repair
Christian Village
Collision Concepts
Culver's
Debbie's Downtown Floral
Evolve Salon
Flossie & Delzena's
Flowers & Things
Forget-Me-Not Floral and Gifts
Friendship Manor
Generations of Lincoln
Giggles & Gab
Graue, Inc.
Grieme-Arnold Insurance
Guest House Coffee & Pastries
Hearing Aid Center
Heartland College Lincoln Center
Helen Knecht
Holland Barry & Bennett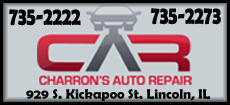 Indigo Quilt Studio
Integrity Data
Jeannie Xamis
Jo Weyant
Laurel Gooden Castleman
Lincoln Daily News
Logan County Breast Cancer Support Group
Margie Douglas
McEntire Appliance
ME Realty
Moses Pinkerton
Nuthatch Hill BBQ
Remington Seed
R.W. Garrett Insurance
Sew Personal Embroidery and Quilting
Sir Renna Tea
Small Town Creations
St Clara's Rehab and Senior Care
Stephanie Baldwin, Cody Shawgo and Gail Sloan
Stephanie Elder and June Bock
Styles by Robin
Top Hat Creamery
UCB Bank

Thanks to all!
Cindy Guyett, Karen Hargis, Roy Logan, Nila Smith