Visitation: 4-7 p.m. Saturday, November 9, 2019 at Holland Barry & Bennett Funeral Home
Service: 7 p.m. Saturday at the funeral home
Funeral home: Holland Barry & Bennett Funeral Home
Obituary
Jerome Edward "Jerry" Zavodny, 36, of Petersburg, passed away November 5, 2019.

Visitation will be from 4-7 PM Saturday, November 9, 2019 at Holland Barry & Bennett Funeral Home with a brief service at 7 PM. Cremation rites will then be accorded.

Jerry was born November 4, 1983 in Chicago, IL., the son of Ron and Mary (Campbell) Iacona. He graduated from Morgan Park High School. He married Holly Tisdale. He was employed as a fork lift operator for Cargill/JBS and most recently at Crate & Pallet Co in Beardstown, IL. He enjoyed fishing with his dad, cooking on the grill, cutting the grass on his riding lawnmower, taking things apart that he couldn't put back together, bonfires and beer, and spending time with his son and family.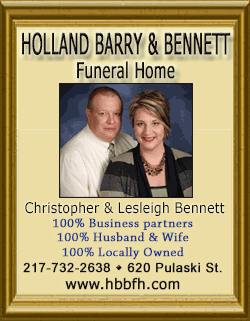 Surviving are his parents Ron and Mary Iacona; son Everett Zavodny, sister Angeline (Lawrence) Burke, sister Esther (Adam) Lindquist, brother Phillip (Nicole) Olczak; and nieces and nephews: Larry, Jacob, Evan, Cody, Gabriel, Lucas, Liam, Eleanor, and Julia.

He was preceded in death by his grandparents and his uncle Allen Campbell.

Memorial donations may be made to the Everett Zavodny fund at Petefish Skiles & Company Bank in Petersburg, IL.

If you are struggling with depression, the National Suicide Prevention Hotline provides 24/7 free and confidential support. Please reach out 1-800-273-8255.

Click here to send a note of condolence to the family of