Visitation: 9:30 a.m. to 10 a.m. Saturday, July 24, 2021 at the First Presbyterian Church in Lincoln
Service: 10 a.m. Saturday at the church
Funeral home: Fricke-Calvert-Schrader, Lincoln
Obituary
Dorothy "Dort" Gaffney 1919 Ė 2020

Dorothy "Dort" Gaffney, 101, of Lincoln passed away at St. Clara's Rehab and Senior Care in Lincoln, IL on December 21, 2020.

Dort was born April 16, 1919 in Hickory Point, Macon County, IL, the daughter of Benjamin F. Harrison and Wilda (Rowe) Harrison. She married Emory Clark Gaffney on April 15, 1944 in Fort Myers, FL. They were married for 72 years. He preceded her in death on July 5, 2016.

She graduated from Lincoln High School and attended Lincoln College. She and Emory opened an accounting firm in downtown Lincoln at the Griesheim Building. Dort served as Office Manager for their business. Mrs. Gaffney was a member of the First Presbyterian Church of Lincoln, where she taught Sunday School classes. She was also a member of the Lincoln Women's Club and served as a volunteer at Abraham Lincoln Memorial Hospital. Dort had the most beautiful smile that she shared with everyone, making them feel special and welcome. She was known as the "hostess with the mostest!" Dort made her extended family and friends a huge part of her life by making holidays and birthdays very special. Family members felt honored when gifted with a sweater, mittens or scarf that were lovingly stitched by her. And, of course, there was the famous fudge that was always expected at family get-togethers. It was a team effort between Dort and Emory, with Dort cooking and Emory stirring until "just the right moment" when it was done and must be poured out of the pan. Dort and Emory shared a love for travel. They visited all 50 states, including driving the Alaskan Highway, where they even stopped along the way to post a "Lincoln 3,076 miles" directional sign. They also made trips abroad to Australia, New Zealand, Thailand, Japan, China (walked the Great Wall), Africa, Ireland, Scotland and England.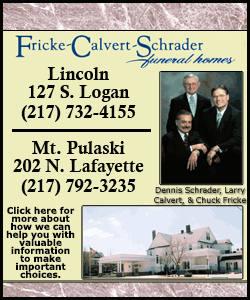 Surviving Dort are her large extended family that includes several nieces and nephews, nieces-in-law and nephews-in-law: Geoff (Pam) Harrison; Kathy (Bill) Daunais; Beth (Dave) Eckert; and niece-in-law, Bobbi Abbott; Maureen (Bernard "Hop") Looney; Tim Harrison; Terry (Cari) Harrison; Kathleen (Peter) Kollinger, Jack "Jay" (Debra) Harrison, Jan Saylor, Joe (Teresa) Harrison, Pam (Michael McArdle) Bubeck, Chris Harrison and Sean (Jennifer) Harrison, Gerald (Susan) Dehner, Valerie (Gary Crawford) Dehner, as well as many great-nieces and great-nephews. Dort was preceded in death by her parents; one sister, Katherine Abbott; three brothers: Ben Harrison, Jack Harrison, and Phil Harrison, brother-in-law, Jim Abbott, and sisters-in-law: Edith Clare Dehner, Eleanor Harrison, Dorothy (Buckstegge) Harrison, and Ruth Harrison, nephews, J. Michael Abbott and Andrew Auld; nieces-inlaw, Betty (Dehner) Tiffany and Nancy (Dehner) Mathews and nephew-in-law, Tom Tiffany.

A celebration of Dortís life will be held at 10:00am on Saturday, July 24, 2021 at the First Presbyterian Church in Lincoln, IL. Visitation will take place prior to the service from 9:30am-10:00am also at the church. Burial will follow the services at New Union Cemetery in Lincoln, IL.

Memorial donations may be made in Dortís name to the First Presbyterian Church in Lincoln.

Services have been entrusted to Fricke-Calvert-Schrader Funeral Home, Lincoln.
Click here to send a note of condolence to the family of Dorothy "Dort" Gaffney