Visitation: Friday, January 14, 2022 from Noon to 1:00 p.m. at St. Patrick's Church in Elkhart
Mass: Friday at 1 p.m. at the church
Funeral home: Fricke-Calvert-Schrader, Lincoln
Obituary

Gwen L. Suttory Best Rosenfeld, 89, of Elkhart, passed away on Tuesday, January 4, 2022, at Heritage Woods in Dwight. Visitation will be held on Friday, January 14, 2022 from 12:00 p.m. to 1:00 p.m. at St. Patrick's Church in Elkhart. Mass to follow with Rev. Joseph Dondanville officiating. The family is requesting masks to be worn. Graveside services to follow at Elkhart Cemetery. She will be the 7th generation of her family to be buried there.

She was born July 29, 1932 in Elkhart, a daughter of William and Chrystle Shockey Suttory. She grew up in Fancy Prairie. She married William Best in 1952. They divorced in 1977. Sadly, he passed away in 2006. She later married Lloyd Rosenfeld in 1980. He preceded her in death in 1992.

She is survived by her children, Greg (Janet) Best of Greeley, CO, Raymond Best of Parker, CO, Laura (Mike Martin) Haacke of Dwight, William Best II of Lincoln, and Daniel (Ruth) Best of The Villages, FL, six grandchildren, one step-grandchild, 11 great-grandchildren, two step-great-grandchildren, one great-great-grandchild, and five step-great-great-grandchildren. She leaves behind one brother Louis (Rochelle) Suttory of Springfield, and many nieces and nephews, great nieces and nephews and a very dear niece, Judy Carlson. She also leaves three stepchildren, Cindy, Mike, and Mark Rosenfeld.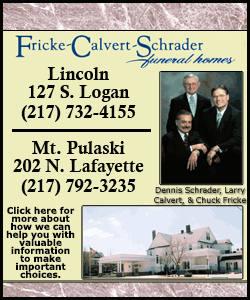 She was preceded in death by her parents, two brothers; William and Darrell Suttory, two sisters; Cordelia Shelton and Leahdell Turner, and one daughter-in-law; Pamela Best.
Gwen graduated from Elkhart Community High School in 1950 then worked for Franklin Life Insurance as a proofreader and then as a proofreader at Phillips Printing. She was co-owner of the Buzz Box Tavern in Sherman, and co-owner of the Trojan Inn Café in Dwight. She worked for Playhouse Toys for 17 years, which allowed her to travel all 50 states and nine countries. In 1994, she retired from State Farm Insurance. She spent her retired years as the elected Village Clerk of Elkhart, serving from 1997 to 2009 and was treasurer of the Elkhart American Legion Auxiliary until 2016. She was a historian of the Elkhart Community in having written two books on the Village and its residents. She was a life-long avid St. Louis Cardinal fan and loved playing Rummy (only for money).

Due to Gwen's dedication and patriotism in supporting our troops, memorials may be made in her name to the American Legion Post 616.

Arrangement made by Fricke-Calvert-Schrader, Lincoln
Click here to send a note of condolence to the family of Gwen L. Suttory Best Rosenfeld