Eaton Community Involvement Team presents checks to local organizations

Send a link to a friend Share
[May 19, 2018]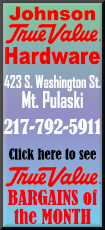 On May 7, representatives from the Eaton Lincoln Plant met at Lincoln City Hall to view and inspect the Building generator that was donated.







Pictured for the generator donation are Eaton Plant Manager Erik Olson and Account Manager Community Support Co-chairman Tiffany Werth, Lincoln Mayor Seth Goodman, Police Chief Paul Adams, B-Shift Lincoln Fire Department Darrin Coffey, Jason VanWinkle, Todd Koehler Chris Davis, Robert Wood and Fire Chief Mark Miller
Eaton donated the 48 kw generator to the City of Lincoln in January. Ryan Electric and Generator sales did the install. The generator replaced a 20 kw that only ran overhead doors, radios and a few lights in the fire station. The new generator powers nearly all of the building to keep Lincoln City Hall and Lincoln Fire Department fully functional in the event off a power outage.
Also during the Visit on Monday Police Chief Paul Adams received a check donation for $10,000 from Eaton to help with a generator, lighting and electrical equipment for the Police station located on 5th Street.

The City of Lincoln wants to extend a thank you to Eaton Corporation and the members and staff of the Lincoln Plant. We are proud of our partnership.
Group photo of all the recipients and members of the Community Involvement Team at Eaton.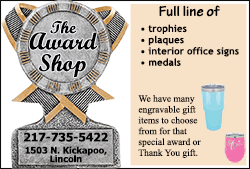 Tiffany Worth of the Community Involvement Team presents to Nancy Cunningham of the Oasis.
Presentation to Lincoln Elementary School District 27
Presentation to Junior Achievement.
Presentation to Ellen Burbage on behalf of the Humane Society of Logan County.
Presentation to Hartsburg-Emden School CUSD # 21.

[Photos and text provided by Mark Miller and Karen Hargis]