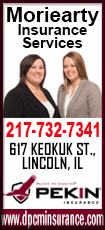 Petitions are available through the commodity organizations and at the Illinois Department of Agriculture in Springfield. The deadline to complete and return these petitions is May 15th for the Corn Marketing Board and Soybean Program Operating Board candidates and May 31st for the Sheep and Wool Marketing Board candidates.

To be eligible, each candidate must be at least 18 years old, have produced and marketed the pertinent commodity during 2020, reside in the district to be represented, and have submitted a valid petition by the filing deadline.

Elections for all three boards will be held on July 6, 2021. For more information, call the Illinois Department of Agriculture at (217) 524-1083 or visit our website at http://www.agr.state.il.us/.


A list of counties holding commodity elections are as follows:

ILLINOIS CORN MARKETING BOARD

District / Counties in District

District 2
Carroll, Jo Daviess, Ogle, Stephenson, Winnebago

District 5
Grundy, Kankakee, LaSalle, Livingston

District 8
Cass, Fulton, Logan, Mason, Menard, Peoria, Tazewell

District 11
Christian, Effingham, Fayette, Montgomery, Shelby

District 14
Bond, Clinton, Madison, Monroe, St. Clair, Washington
ILLINOIS SOYBEAN PROGRAM OPERATING BOARD

District / Counties in District

District 2
Cook, Du Page, Kane, Kankakee, Lake, McHenry, Will

District 10
Christian, DeWitt, Macon, Moultrie, Shelby

District 11
Champaign, Coles, Douglas, Edgar, Piatt

District 14
Clark, Cumberland, Crawford, Effingham, Jasper

District 16
Clay, Edwards, Lawrence, Richland, Wabash, Wayne, White

District 17
Jackson, Jefferson, Perry, Randolph, Washington

ILLINOIS SHEEP & WOOL MARKETING BOARD

District / Counties in District

District 2
Champaign, Clark, Coles, Cumberland, Douglas, Edgar, Ford, Grundy,
Iroquois, Kankakee, Kendall, Livingston, Piatt, Vermilion, Will

District 5
Adams, Brown, Calhoun, Cass, Greene, Jersey, Macoupin, Morgan, Pike,
Schuyler, Scott
[Illinois Office of Communication and Information]