Lincoln Daily News
welcomes letters of appreciation, information and opinion on matters pertaining to the community.
As a community we need to be able to talk openly about matters that affect the quality of our lives. The most effective and least offensive manner to get your point across is to stick to the issue and refrain from commenting on another person's opinion. Letters that deviate from focusing on the issue may be rejected or edited and marked as such.
You may also send your letters by email to ldneditor@lincolndailynews.com
or by U.S. postal mail:
Letters to the Editor
Lincoln Daily News
601 Keokuk St.
Lincoln, IL 62656
Letters must include the writer's name, telephone number, and postal address or email address (we will not publish address or phone number information). Lincoln Daily News reserves the right to edit letters to reduce their size or to correct obvious errors. Lincoln Daily News reserves the right to reject any letter for any reason. Lincoln Daily News will publish as many acceptable letters as space allows.
To the editor:

Boy Scout Troop 1102 would like to give a heartfelt thanks to the citizens of Logan County. We are very grateful for the continued strong support of our Boy Scout Annual Barbeque Dinner.

We would especially like to thank the following supporters:

The Edson Family,
Eaton,
The First United Methodist Church,
Graue Chevrolet Buick-Cadillac,
Hicks Gas,
Hy-Vee,
Rick Janssen Family,
Knights of Columbus,
Lincoln IGA,
Lincoln Printers,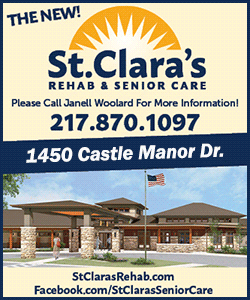 Mad About Trees/Thomas Madigan,
Nuthatch Hill BBQ,
Peggy's Place,
Fat Boy's BBQ
and Sysco.
Because of your support, our Boy Scouts are able to participate in activities such as hiking and camping at Philmont, attending merit badge fairs and camping at Ingersoll.
The goal of scouting is to offer fun and challenging activities while building character, leadership, knowledge and physical fitness. Again, thank you for your support and we would love to see you again next year.

Sincerely,
Kristen Green
Troop 1102 Committee Chair
[Posted August 25, 2018]