Lincoln Daily News
welcomes letters of appreciation, information and opinion on matters pertaining to the community.
As a community we need to be able to talk openly about matters that affect the quality of our lives. The most effective and least offensive manner to get your point across is to stick to the issue and refrain from commenting on another person's opinion. Letters that deviate from focusing on the issue may be rejected or edited and marked as such.
You may also send your letters by email to ldneditor@lincolndailynews.com
or by U.S. postal mail:
Letters to the Editor
Lincoln Daily News
601 Keokuk St.
Lincoln, IL 62656
Letters must include the writer's name, telephone number, and postal address or email address (we will not publish address or phone number information). Lincoln Daily News reserves the right to edit letters to reduce their size or to correct obvious errors. Lincoln Daily News reserves the right to reject any letter for any reason. Lincoln Daily News will publish as many acceptable letters as space allows.
To the editor:

On Sunday evening, 7-19-20, we were invited to view a movie /documentary entitled FREE BURMA RANGERS.

It was sponsored by a local church and I was wishing more folks who appreciate hearing stories of faith and courage, would have attended.

I do not recall ever hearing about this remarkable family and I have been a Christian for a long time. Briefly, they spent twenty years serving in dangerous circumstances to help people, for example, in Burma, Iraq and Syria. They raised a family during this time and are still serving.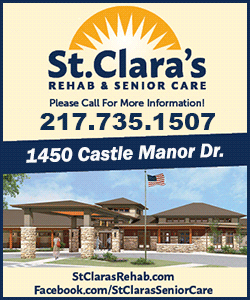 As I looked around the group, everyone was intently watching the film for nearly two hours. I encourage everyone to make an opportunity to view it.
Nancy Carter
[Posted July 30, 2020]