Lincoln Daily News
welcomes letters of appreciation, information and opinion on matters pertaining to the community.
As a community we need to be able to talk openly about matters that affect the quality of our lives. The most effective and least offensive manner to get your point across is to stick to the issue and refrain from commenting on another person's opinion. Letters that deviate from focusing on the issue may be rejected or edited and marked as such.
You may also send your letters by email to ldneditor@lincolndailynews.com
or by U.S. postal mail:
Letters to the Editor
Lincoln Daily News
601 Keokuk St.
Lincoln, IL 62656
Letters must include the writer's name, telephone number, and postal address or email address (we will not publish address or phone number information). Lincoln Daily News reserves the right to edit letters to reduce their size or to correct obvious errors. Lincoln Daily News reserves the right to reject any letter for any reason. Lincoln Daily News will publish as many acceptable letters as space allows.
To the editor:

The Humane Society of Logan County would like to extend our sincere gratitude to everyone who supported our pie and cake sale held in conjunction with The American Legion Breakfast on April 14th. There were 56 items donated and sold that day.

Special thanks to The American Legion Post 263 for the delicious breakfast, and to Kay Armbruster, Cha Dai Pet Motel and Daycare, who donated a beautiful raffle basket.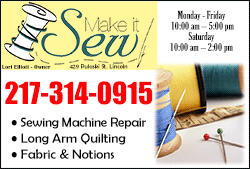 Thank you to all of the wonderful bakers who donated pies, cakes, and other baked items.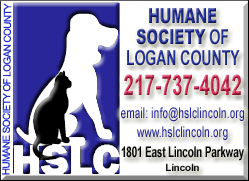 The list of bakers includes the following:

Sue Newman, Chris Thomas, Angela Coplinger, Stephanie Baldwin, Carol Boch, Kay Armbruster, Melanie Schaler, Brenda Short, Ellen Burbage, Nancy Schaub, Ruth Green, Stacie Wachtel, Deb Parker, Joy Fulk, Judy Conzo, Lynnette Maske, Connie Block, DiAnne Turner, Laura Swearingen, Brenda Redfairn, Lesleigh Bennett, Diane McShane, Susan Gehlbach, Lois Renfro, Marilyn Wheat, Judy Smith, Marilyn Armbrust, Shirley Wolpert, Bill Post, Karen Deany, Annie Boyer, Cherrilyn Johnson, Kim Richards, Peggy's Place, and Goodman Trucking. Thanks also to anyone inadvertently omitted from this list.

Sincerely,
Humane Society of Logan County
[Posted April 30, 2019]