Lincoln Daily News
welcomes letters of appreciation, information and opinion on matters pertaining to the community.
As a community we need to be able to talk openly about matters that affect the quality of our lives. The most effective and least offensive manner to get your point across is to stick to the issue and refrain from commenting on another person's opinion. Letters that deviate from focusing on the issue may be rejected or edited and marked as such.
You may also send your letters by email to ldneditor@lincolndailynews.com
or by U.S. postal mail:
Letters to the Editor
Lincoln Daily News
601 Keokuk St.
Lincoln, IL 62656
Letters must include the writer's name, telephone number, and postal address or email address (we will not publish address or phone number information). Lincoln Daily News reserves the right to edit letters to reduce their size or to correct obvious errors. Lincoln Daily News reserves the right to reject any letter for any reason. Lincoln Daily News will publish as many acceptable letters as space allows.
To the editor:

I want to express my sincere thanks and appreciation to the citizens of Ward 2 for allowing me to serve as your Alderman.

The past 5 Ĺ years have given me a singular appreciation for the layers of complexity that make up Municipal Government that can only be learned in the trenches. Public service at any level is a difficult, yet exceptionally rewarding, task.

To all who have served, are continuing to serve, or have the propensity to do so in the future, I applaud you. As an Alderman, I have been afforded the opportunity to work alongside wonderful, hardworking, dedicated individuals. To all of you, I am extremely grateful.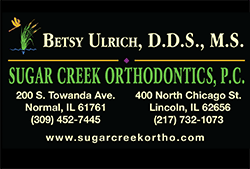 Lincoln is not unlike many communities in Illinois. We have our struggles, but I can tell you first hand that we also have a tremendous number of successes. This community has heart, compassion, and desire. This community spirit is what made me want to serve, and Iím glad I did!

Sincerely,

Michelle Bauer
[Posted April 26, 2019]