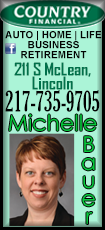 These young people are coming to not only help make Logan County beautiful, but to find strength in themselves and our community.
Workcamp for Lincoln is a group of young adolescents who will be coming to Logan County from all over the country. Don't worry, they aren't coming to raise havoc. These kids have actually paid for the experience to help improve the homes of elderly, disabled and low-income members of our community.
Please rest assured that all CDC rules and regulations will be followed to help keep them and our community safe and healthy.
This is our first year being a part of the Group[ Mission Trip Home Repair program and we are hoping that if it goes well, they will return each year. Workcamp crews will be in Atlanta, Chestnut, Emden, Lincoln, Middletown and Mount Pulaski, and could be wearing shirts with the Workcamp for Lincoln logo or Group Mission shirts which will make them recognizable.
So, what do we need from the community? Just a kind smile and wave as you see these crews coming in.
If you own a business, there are some additional ways you can help:
If you have advertising signs/marquees, we ask that you put a message for the Workcamp for Lincoln groups to see as they come into town the weekend of July 25th. Just a simple "Thank you Workcamp for Lincoln volunteers!"

We would love to place information cards at your counters to educate customers about the Workcamp for Lincoln program.

Place our welcome signs in the window of your business the week of July 25th.
[Bethany Rademaker/Todd Henry]