Send a link to a friend Share
JUNE
---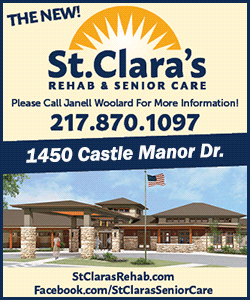 SATURDAY, JUNE 30
Learn about the Power of Produce
at ALMH Market
HOSTED BY: ALMH Market, Abraham Lincoln Memorial Hospital
WHO: Public
DETAILS Each week the market will offer the Power of Produce program free for youngsters, along with free fitness classes, a walking trail, and other offerings such as free health screenings, free cooking demonstrations, and "Community Day." The Market will be not just a place to shop, but a destination to spend a great morning on a healthy family outing.
WHERE: Logan County Fairground
WHEN: 8 a.m. to Noon
Families Belong Together Rally
HOSTED BY: Logan County Democrats
WHO: Public
DETAILS: This local rally is part the nationwide protest against the separation of families at the southern border.
WHERE: Logan County Courthouse
WHEN: 10 a.m.
Free Community Yoga Class
HOSTED BY: REPS Gym
WHO: Public
WHERE: REPS Gym, 300 S. McLean, Lincoln
WHEN: 10:15 a.m. to 11:15 a.m.
Fifth Saturday Opry
HOSTED BY: Eagles Lodge
WHO: Public with paid admission
DETAILS: Join the 5th Saturday Opry Band for an evening of classic country music. Doors open at 6pm with show at 7pm. Tickets sold at the door. Concessions sold by the Eagles Lodge. Free popcorn ! Use the entrance near the pavillion.
WHERE: Eagles Lodge, 1621 N. Kickapoo, Lincoln
WHEN: 7 p.m. to 10:30 p.m.