POSTPONED DUE TO RAIN - RESCHEDULED FOR NEXT WEEKEND
Graduates to be individually honored by sign on Logan County Courthouse lawn



Send a link to a friend Share
[May 22, 2020] As we enter the month of May, many are often excitedly preparing for their graduation day.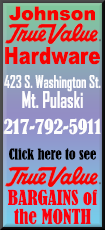 With graduations around the area being postponed or cancelled this year due to the pandemic a few community members decided to find another way to honor the county graduates.

Lincoln resident Rod Clarke said he got a call from Jeff Yeazle saying we need to do something to honor the seniors. After talking a while Clarke said they came up with using Wyatt Ave to put up signs honoring the seniors from Lincoln.

Clarke contacted Lincoln Mayor Seth Goodman who said he would need to run it by the council. Once someone pointed out that the Logan County Courthouse lawn might be a better spot, he was told to get the approval of the Logan County Board.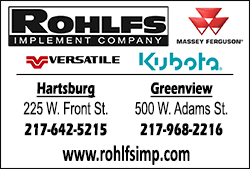 When Clarke contacted Logan County Board Chairman Emily Davenport, she said if they were going to use the courthouse lawn it would be cool to honor all seniors in the county.
Clarke said he then decided the county eighth graders who are graduating should be included. Clarke, Stephen E. Klemm, Joe Ryan and Yeazle made calls and sent emails asking for all the names of the seniors and eighth graders in the county.
Next, Clarke said they had to figure out how to get the supplies needed. He said Steve Klemm talked to the folks at Heritage Packaging and they happily donated the cardboard needed to make the signs.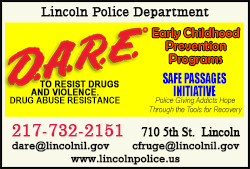 Clarke reached out to Joe Ryan at Country Financial and Seth A. Goodman at ME Reality to see if they would be interested in helping with the costs of making the signs and getting the stakes to put them on. They both agreed without hesitation and Clarke said he is thankful for their generosity
Other area business also stepped up to help with the project.

Hot Frog Design worked on the signs.

RP Lumber provided the stakes.

Picture this Photography provided the banner.

Clarke said he was thankful to all of them.

The board approved Clarke's request at a special meeting Thursday, April 30.

On May 15 22ND, the signs honoring all of our graduates in the county will be place in the ground on the courthouse lawn. They will be removed on the 17th 24TH

If parents or students want their sign on the 17th 24TH Clarke said they are more than welcome to them. They just need to go to the courthouse that day and pull it out of the ground.

Clarke hopes the signs will bring some happiness to this year's graduates since they are not being honored in the typical way.

[Angela Reiners]