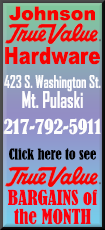 A downtown walkabout found several happy people working to figure out the new 'normal' for Phase three of the Illinois coronavirus recovery plan.

Local bars and eateries are now permitted to serve their guests via outdoor dining areas. To help promote this, the city of Lincoln passed rules this week that permitted each businesses the option of utilizing three parking spaces in front of their businesses for serving their guests.

Some of the downtown businesses are not utilizing this option, and have come up with their own solutions.


As an example, Mama's Arcade and Guzzardo's are setting up dining areas in the pass-through of the Arcade building on Pulaski Street. At mid-day on Friday there were already guests enjoying breakfast/early lunch from Mama's. Food was brought out on real plates but silverware and menus were of the throw away variety. The waitress delivered the menus and flatware, and took the orders of her guests, just as she would have inside the café.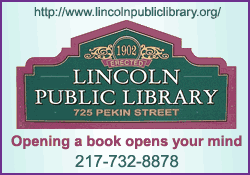 Guzzardo's is also utilizing their courtyard, and have placed a few extra tables there. They are also utilizing technology to make it easier for guests to view their menus. QR codes are posted on the wall of the Arcade pass-through. Scan the code and view the complete Guzzardo menu.
Spirited Republic, which is open only in the evenings, is utilizing the street seating option and on Friday morning had their tables set up with a roll of plastic fencing waiting to be put up.
The Alley By on Pulaski Street is also going to utilize parking spaces for their food service. At noon on Friday guests who may have been hankering for an Alley-Bi hamburger for a while now, happily took a seat behind the orange fencing to enjoy a noontime meal.

Around the corner on Kickapoo Street, Deep Roots Bakery and Café is not going to be opening right now. They will continue to sell their bread and chicken salad out the front door on Tuesday and Friday of each week. Place your order on Monday or Thursday and they will bring it out to you.
Small Town Creations is open for shopping. Owner Kathie Williams said that she was more than ready to get back to the shop to see people.

Williams noted that husband Jim works for an insurance company in Bloomington and he has been working at home since the pandemic.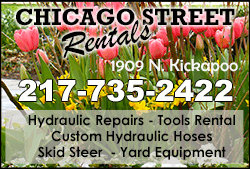 They have done some remodeling work around the house, have done some sprucing up at the shop, but said frankly, Williams said that they were about out of projects.

Williams said that her trophy business was hit hard when winter school sports came to an abrupt halt and all spring sports were canceled. She was very thankful though that the schools had moved forward with doing plaques for their graduates, and that getting that business in spite of technically being closed had been a great help.

Williams said there were days when she was pretty blue and days that she didn't know what she was supposed to do. She noted that not knowing when she could come back full-time made it particularly challenging because she didn't know what season to get ready for. She wondered, "What do I do? Do I get ready for the Fourth of July, or do I get ready for Christmas?"

Either way, now that the store is open, it looks great, and all the coffee is in stock, Kathie is more than ready for the customers to return to her store.


Guesthouse Coffee and Pastries is another shop that is not utilizing the three parking spaces in front of its storefront. Small café tables are set under the front entryway and in front of the two store fronts the business occupies. There are also a couple of tables in front of the nearby windows of owner Ethan Hoinacki's neighboring shop, Small Town Creations.


A sign on the front door asks that there be no more than five customers in the shop at one time. Guests go in place their orders, then may return outside to enjoy their sweet treat and coffee on the sidewalk.
Up the street at the corner of Kickapoo and Broadway Street, D-Fades barber shop was a popular place. Open for the first time in weeks, all three chairs were filled as guys came in to get their haircuts and also a little beard grooming done.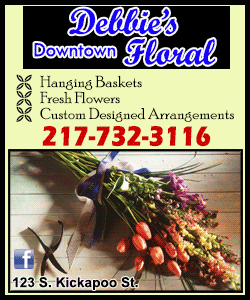 The barbers on duty wore their face masks, but the look in their eyes, coupled with the 'thumbs up' they offered the camera tells us all that they are happy to have their doors open once again.
Further up on North Kickapoo Street, Eileen Mullins of Sir Renna Tea was celebrating reopening, happily working on shelf stock. While the shop sells bubble tea to consume immediately, Mullin's said that she would not be putting out tables. She noted there are benches outside in her porch area and once in a while customers do sit for a spell, but most of her business is grab-and-go anyway.

For Mullins, the exciting part is getting people back in the shop for all the great merchandise she offers, and the opportunity to once again see people and visit with friends.
Flossie and Delzena's is going to be setting their dining tables on the Kickapoo Street side of their business. The ADA accessible parking for Broadway Street is located in front of their business. To preserve that for shoppers, Heather at Flossie's chose to take a couple of the parallel parking spots around the corner instead.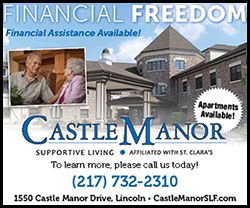 The popular corner location also has it's small café' tables in front of the eatery. On Friday morning Moses Pinkerton and a friend sat and chatted as Moses enjoyed his coffee. He noted that one can't drink coffee with a mask on, but they were observing social distancing, taking up two tables instead of just one.

Moving on eastward on Broadway Street. Mary Todd Hallmark was not open on Friday, but the Copper Penny antique and collectible shop was.
Owner Theresa Scheiffer was all smiles as she sat at her counter hoping for customers. She had one shopper in the store who was respectfully wearing a mask as he looked around.


Outside and down the street a bit, Sorrento's owner Lisa Drew and son Tony were busy with staff getting tables and tents set up in their outdoor dining space. Lisa chuckled, "I always wanted outdoor dining and now I have it."


Drew said that she and her staff have learned to roll with the punches and adapt to the situation we are in. She gave high praise to Tony and the staff for how quickly they adapted to the carry out only way of doing business of the last several weeks. She said that for a time, she and husband Jim stayed home, but the gang at Sorrento's kept on truckin' and getting the job done.


Drew is looking forward to seeing guests return. She said that even though the outdoor dining is not a garden, she hopes to make it nice for her customers. Tents were being set up and she said they were planning on having some nice lighting. Guests will come to the tent and take a table and the wait staff will come out take their orders and deliver their food just as they would inside the building. She said they did plan on using throwaway plates and flatware, but were still pondering what they were going to do with the pizzas. She said she was leaning toward going ahead and bringing those out on traditional pans.


Drew said that while this time of isolation has been a challenge, it has also had its bright spots. She said that when she was in town she would take a walk, go to the park, and see families together. It was fun and interesting to see families together picnicking in the park or riding bikes around town. She likened it to the atmosphere of the community 40 years ago when things were slower and much simpler.

Drew also delivered a big message to all of us. She said that Lincoln is strong, it is resilient, and that a pandemic is not going to destroy this community. She noted that we roll with the punches and keep going because that is the kind of people we are, the kind of community we are. So, we take what we can get right now, and look forward to the day when we can get back to a more realistic "normal."

[Nila Smith]